Become a Dental Assistant on the Central Coast
Dental Assistant Bootcamp
February 1 – February 22, 2024
Online and in-person
San Luis Obispo County Office of Education
Early Registration: Just $99 until Jan. 15, 2024
($149 after January 15, 2024)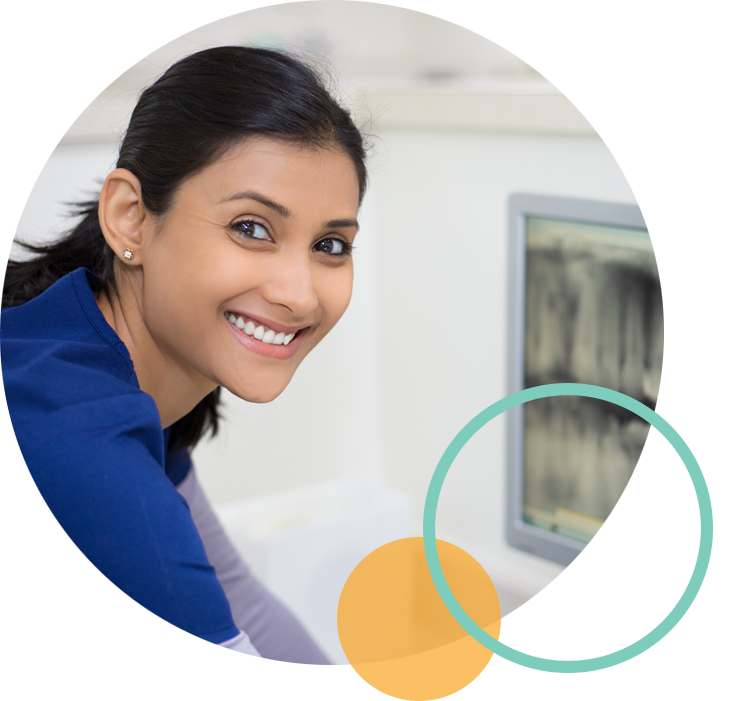 Dental Assistants are In-Demand in SLO County and the Central Coast
Local dentists are looking for assistants to join their teams and meet the needs of patients in our community. Enroll now in our 3-week training program and kickstart your career in the rewarding field of dentistry.
Average local wages are $20-$25/hr for dental assistants. Once you're hired, you can get licensed to become a Registered Dental Assistant with wages averaging $25-$30/hr.
2024 Bootcamp Schedule
Orientation, Welcome to Dentistry
Dental Practice Act
Customer Service
BLS/CPR
Resume/Interview Skills
Infection Control
Employer Visits
*If you need a flexible schedule we can make several changes to accommodate your specific needs. Please let us know upfront and we will work with you.
What Our Graduates Have to Say
Marlena Lewis
Precision Manufacturing Graduate, Trust Automation
"Without SLO Partners I would have never known these jobs existed in SLO county, or have been considered qualified for any of these positions."
James Michie
Precision Manufacturing Graduate
"It's a great program and a great way to get a head of household-type job without incurring student loan debt."
We are offering five $300 scholarship awards to SLO County participants to assist with expenses (tuition, transportation, childcare) related to the bootcamp.
Deadline to apply is 1/15/24
Customer Service

The purpose of this course is to provide expectations and standards for interacting with dental patients, coworkers, and everyone you may interact with in the course of your job.

Dental Practice Act

The purpose of this course is to serve as a guideline for dentists, orthodontists, dental hygienists, dental assistants, and other professionals in the dental field who are working in the state of California. The course is to inform about the rules and regulations for safely and legally practicing dentistry in accordance with the California Dental Practice Act.

CPR/Basic Life Support

The AHA's BLS Course is designed for healthcare professionals and other personnel who need to know how to perform CPR and other basic cardiovascular life support skills in a wide variety of in-facility and prehospital settings.

Infection Control

The course will provide students with basic concepts, step-by-step procedures, and the current regulatory aspects related to infection control and office safety.
Why become a dental assistant?
If you're interested in starting a stable career with regular hours in a rewarding career, becoming a dental assistant is an excellent starting point. Dental assistants play a crucial role in patient care and work closely with dentists during procedures and can be an entry to additional career opportunities.
What is the job outlook and salary?
Dental assistants are in high demand, especially on the Central Coast. Starting pay: $20-$25 per hour. With additional training, you can become a Registered Dental Assistant and earn $25-$30 per hour.
What are the career benefits?
Variety: Dental assistants handle diverse tasks.
Flexibility: Enjoy options for full- or part-time positions.
Superior working conditions: Work in a clean, pleasant, people-oriented environment.
Personal satisfaction: Experience fulfillment from one-on-one patient interactions.
What does a dental assistant do?
Dental assistants provide essential support to dentists, including:
Patient care assistance.
Dental instrument cleaning and preparation.
X-rays and lab tasks under dentist supervision.
Maintaining dental records.
Scheduling appointments and assisting with billing.
What does a day in the life of a dental assistant look like?
Work with dentists, hygienists, and patients.
Provide chair-side support.
Prepare instruments and equipment.
Document patient medical history and vital signs.
Explain dental hygiene to patients and ensure their comfort.
What are the necessary skills needed to become a dental assistant?
Soft Skills:
Be friendly and personable
Good communication skills
Dedication and reliability
Interest in learning
Technical Skills (Get at our bootcamp):
Infection Control certification
BLS/CPR
Dental Practice Act.
Effective communication as part of a team
Embark on a fulfilling career journey as a dental assistant. Join our bootcamp to gain the skills needed for success in this dynamic and rewarding field. Complete the online application form to register for our upcoming bootcamp.
Register for the Feb. 2024 Dental Assistant Bootcamp